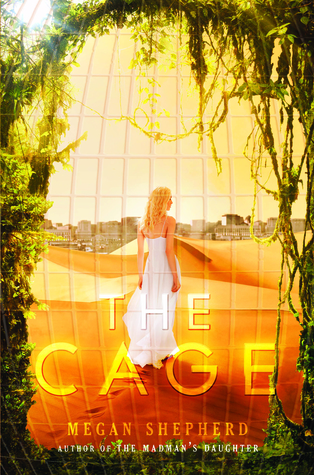 Book Title: The Cage
Author: Megan Shepherd
Published Date: May 26th, 2015
Publisher: Balzer + Bray
Genre: YA Science Fiction
Series: Book One in The Cage trilogy
The Maze Runner
 meets Scott Westerfeld in this gripping new series about teens held captive in a human zoo by an otherworldly race. From Megan Shepherd, the acclaimed author of 
The Madman's Daughter
 trilogy.
When Cora Mason wakes in a desert, she doesn't know where she is or who put her there. As she explores, she finds an impossible mix of environments—tundra next to desert, farm next to jungle, and a strangely empty town cobbled together from different cultures—all watched over by eerie black windows. And she isn't alone.
Four other teenagers have also been taken: a beautiful model, a tattooed smuggler, a secretive genius, and an army brat who seems to know too much about Cora's past. None of them have a clue as to what happened, and all of them have secrets. As the unlikely group struggles for leadership, they slowly start to trust each other. But when their mysterious jailer—a handsome young guard called Cassian—appears, they realize that their captivity is more terrifying than they could ever imagine: Their captors aren't from Earth. And they have taken the five teenagers for an otherworldly zoo—where the exhibits are humans.
As a forbidden attraction develops between Cora and Cassian, she realizes that her best chance of escape might be in the arms of her own jailer—though that would mean leaving the others behind. Can Cora manage to save herself and her companions? And if so . . . what world lies beyond the walls of their cage?
Disclaimer: I received this e-ARC from Harper Collins via Edelweiss in exchange for my honest review.
Review:
I was nervous about this book because I didn't enjoy The Madman's Daughter trilogy. I wanted to give Shepherd another chance to impress me. This book looked like something I'd love, so I was also excited.
This book really surprised me in the best way. It was fascinating, and the world building was really well done. I was nervous about the world building because it can either be really awesome and help contribute to the story, or it can be underdeveloped and ruin the story. I could picture the different enclosures and the people well.
Cora, Lucky, Nok, Leon and Rolf are already one member short when the book opens, the sixth member of their little group is dead, and for awhile we don't know what happened to her. That question is eventually answered as are countless more questions.
There are three rules in this place:
1. Solve the enrichment puzzles
2. Maintain their health by eating the food provided, get enough sleep and cooperate in routine health assessments.
3. Engage in procreative activities to ensure the continuation of the species.
If they do not complete all three steps in 21 days, they will be removed from the enclosure. We don't find out until much later where they end up if they don't cooperate.
Cassian was interesting and I'm not 100% sure I trust him at this point in the story. He knows far more than Cora or any of the others do at this point and he's very reluctant to share what he knows, even with Cora. He does bend the rules at times, so you start to think that he's caught between a rock and a hard place. He seems to care for Cora by the time the book ends, but like I said, I'm not sure I trust him yet.
Now Mali was so freaking fascinating, I actually liked her the best out of all the characters. She was so mysterious and intriguing. I was never quite sure whose side she was on, if she was really as messed up as she seemed. So getting parts of the story from her point of view was awesome and I actually wished there was more of her in the story.
The writing style was interesting. It had been a long time since I had read something in third person present tense, so I was worried I wouldn't be able to get invested in the story. Thankfully the story itself was captivating and I had no issues with the way it was written.
I was really impressed by this book. I was hooked from the beginning and I never wanted to put it down. It was such a unique story, and I cannot wait for book 2 to come out. It's going to be a long wait until then. I am giving this book 4.5 stars. It was nearly perfect and I would recommend it to anyone who likes science fiction.